Dealing with Household Mold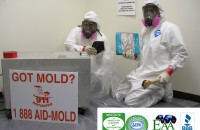 I have found over the years that there are many types of mold that grow in people's homes. While some types of mold are easy to deal with, there are others that are simply too much for one person to handle on their own. It is worth the time to consider what to do when mold rears its ugly head in your home and poses a health risk for your family.
I'll make sure to cover each of these items carefully, but you must be the one to make the call to a local mold repair and restoration professional to ensure that your home is in good condition going forward.
Common Household Mold
The most common types of household mold and mildew are green. You might run across them in a shower that hasn't been used in a while, or you might find this type of mold in a crawl space under the house. These common molds can grow anywhere, and anyone could have a problem with them.
However, common household mold can spread pretty quickly when it is given a warm and moist place to grow. Rooms that generally go unused with little air circulation or the damp spaces that tend to get wet at the same time every year are going to be great breeding grounds for mold in your house.
Black Mold
Black mold is by far the most dangerous type of mold that you can have in your home. I can tell you from personal experience that someone could be displaced from their house for many weeks while they are waiting for black mold to be safely removed from their house. Black mold can cause all kinds of respiratory problems, and it can actually kill people if it is left untreated. It is absolutely imperative that you don't try to remove black mold yourself. A professional crew will have the proper tools and safety equipment to handle the job safely.
The Health Risks

When you have traditional green mold in your home, you could have a dry mouth or throat, a little bit of a cough and generally be susceptible to basic respiratory problems. Left untreated, your home will take on a mildew or musty smell that will simply make it hard for everyone in your family to breathe. These conditions aren't fatal but still pose a minor health risk
Black mold, on the other hand, is a deadly mold that must be removed from the home as soon as it is detected. Without removing the black mold you may become gravely ill.
What Do You Do?
When you find any kind of mold in your home, I recommend calling on a professional mold removal and home restoration business to come into the house and get the mold out. You will want your home fully inspected by professionals who can locate the mold, safely remove it and make your home safe to live in again.