Mold removal: causes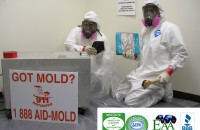 Mold in homes and houses is typically caused by moisture buildup on surfaces. Tiny mold spores floating through the air land on surfaces inside of a home and, if the surface has a food source and some form of moisture, will begin to multiply. The food source is typically wood or wall boarding, but mold can grow on nearly any surface that consistent moisture is present upon or in. It is not uncommon to see mold grow in bathrooms or under kitchen sinks as a result of a leaking pipe. These areas provide the ideal environment for mold to grow, as they are damp and out of sunlight. Poor ventilation can help mold grow, as the spores will not travel far from the mold, causing the fungus to build up more quickly in that location. Also, moisture will not be removed from the area efficiently, which is one of the leading causes for ton.
Larger mold growths are often the result of a burst pipe or some other major plumbing issue. When large amounts of water are present in the structure of a home, or in other enclosed areas where piping can be found, it is often not cleaned up or dried fast enough, allowing mold to quickly grow over the next few days.