Mold removal: how to prevent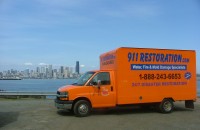 Mold produces tiny spores that float through indoor and outdoor air, looking for the perfect surface to attach to. It can withstand all types of weather and can spread rapidly in moist conditions. Mold does have a place in the environment, but in the home, mold can bring about unhealthy conditions.
Mold inspection is a valuable service that can save money by finding the source of the problem before it has a chance to cause any structual damage or major health issues. The best way to determine the extent of a mold problem is to have a trained professional test how many spores exist in the air. The process is noninvasive and very affordable. If the levels are too high, proper steps can be taken to restore a structure to a safe condition.
Mold removal  is performed in a variety of ways. For small mold issues, a thorough cleaning with hot water will alleviate the problem. For frequently used places such as floors and appliances, use a mixture of bleach and water. Scrub the area to completely remove any signs of mold. Sometimes the mold problem is widespread and a professional has to be employed to make sure all mold has been completely eradicated from walls and hidden areas. Professionals will wear special equipment to make sure airborne mold spores are not inhaled. Contaminated drywall, wood and furniture is carefully removed, and all areas are checked to make sure no mold is present.