Last Month's Dramatic Fire Rescue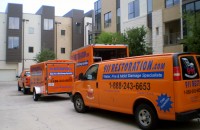 Luck really doesn't completely do the story of the Houston construction worker and firefighter that narrowly escaped a burning apartment complex justice. Video footage of the incident last month shows the construction worker desperately signaling a fire truck that he was trapped. When the flames rapidly spread to the balcony where he was stuck, he bravely lowered himself from the fifth to the fourth floor balcony to buy extra time. Remarkably, everyone walked away from this horrific scene untouched.
It's pretty amazing to think about how things like this can and do happen every day. There are many factors that contribute to the spreading of fires. Whether it's a brush fire in extremely dry conditions, or house fires as a result of smoking in bed, leaving a burner on in the kitchen, a short in the electrical system, or a host of other possibilities, fires can start and spread very fast. Wind speed and direction are other factors that contribute to the spreading of fires and it is completely uncontrollable. So prevention has to be the best medicine.
Fire Prevention
To minimize the risk of an uncontrolled fire in the outdoors is first and most importantly to follow any required or even suggested burn ban. They put these into effect for a reason and therefore it's necessary to follow them. Burn bans are only implemented when conditions are very dry, so don't ignore them under any circumstances. Regarding the indoors, make certain before you leave the house or go to bed that all the burners on your stove top are turned off. This is a very easy precaution to take that can save your life and the lives of your entire family.
Fire and Smoke Damage Restoration
The smoke and soot that comes as a result of house fires is very acidic. It will cause a lot of very extensive damage to your home or building. Even what seems to be a very small fire that is quickly controlled and extinguished will leave lasting and very harmful damage. Consider that smoke and fire damage is also hazardous to the breathing conditions in your home or building as well. In the even that a fire does occur, it's important to get it taken care of very quickly by using a professional fire damage restoration and cleanup company.
This kind of damage is not a do-it-yourself kind of job, and when the safety of you, your family or your employees is concerned, there should be no question in your mind as to how to handle the situation. Just like the construction worker and firefighter observed, time is not on your side in a fire. When the immediate danger is over, a whole new clock begins ticking. Getting the damage cleaned up and restoration efforts underway by professionals has to become your top priority.