Fire and Smoke Damage Houston
Eli Elkayan, owner of 911 Restoration Houston, believes that, "homeowners deserve a company they can trust when they are in their time of need."
We are a restoration that is proud to be serving the Houston community, which means we make it clear about how much you matter to us.
This is why he is proud to be serving the community through thick and thin by being available 24/7/365.
On top of that, a homeowner is in need of fast help, we will be there within 45 minutes with same- day service.
Our fire damage Houston team is licensed, bonded, and insured which means you get exactly the help you deserve. Your fresh start begins when you call us. So, if you need fire damage restoration, give us a call today!
Tips for Avoiding Fire Damage
Eli says, "predicting when a fire is going to happen is impossible, but assessing the risk of a fire is very much probable." There are plenty of ways a fire can occur from a failed electronic to an exposed wire igniting a flammable object.
For these reasons the fire damage Houston team has drafted a guide to help you be prepared for a fire.
First, make sure your home is equipped with working smoke detectors. A fire will start small and smoldering, and knowing that is there can help you better react.
Make sure to test your smoke detectors at least once a month. Sometimes a battery could malfunction, or the smoke detector could be defective. No need to start a fire, every smoke detector comes with a small little button to press in order to test it out.
After that, we recommend buying a fire extinguisher. It will help fight small fires before it can become a larger one.
After that, we recommend homeowners take time planning and practicing a fire evacuation plan A successful fire evacuation plan includes multiple escape routes, and a safe meeting spot outside the home.
It is imperative to teach the younger people in the house to implement the evacuation plan without the need of an adult. Everyone may be in a different room when a fire starts, so they should not wait for anything but the sound of a smoke detector.
If you experience a fire, and after the fire marshal has cleared your home, call the fire damage Houston team for immediate restoration services today!
Peace of Mind After a Fire and Smoke Incident
"The home suffers water damage, smoke odors, and stains after a fire. But the true victim is the homeowner. Their peace of mind may have been robbed from them. This is why we are here to let them know things will get better," explains Eli.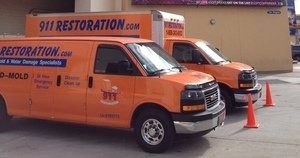 The fire damage Houston team at 911 Restoration is IICRC certified in order to execute the most thorough fire remediation plans that will get your home looking fresh.
It will make your home look fabulous, and more importantly, you will feel renewed. We work with all sorts of material, so you are guaranteed a home that looks better than new.
We know how to use the most advanced restoration technologies alongside the most thorough techniques to create a blend of effective remediation. For example, our years of experience allow us to know that smoke will deposit odor-causing debris into drywall and vents.
Therefore, vacuuming it from the most visible parts is not enough to allow you to breathe easy. We implement a thermal fogger that deodorizes those hard to reach places.
Moreover, jet streams from a firefight leaves behind water damage. Our wet vacuums remove water while preventing its subsequent consequence of mold growth as well.
Call our fire damage Houston team at 911 Restoration if you experienced anything from a small fire to a larger one. We will get you on track for a fresh start with your home after a fire and smoke damage incident, so call our fire and smoke damage restoration Houston experts with 911 Restoration Houston today!