Fire and Smoke Damage in Houston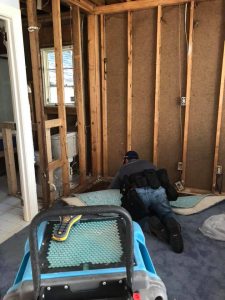 A property fire or puffback can make your beautiful home or business feel permanently contaminated. 
The truth is, a full recovery is easier and more affordable than you think. Just call 911 Restoration of Houston at 713-714-5652 and allow us to provide you with a free visual inspection.

Our highly trained fire and smoke cleanup crew is IICRC certified in property restoration. They provide everything you need for a Fresh Start, including roof repair and drywall replacement. Consider 911 Restoration your one-stop shop for fire damage restoration and smoke removal. We're the only contractor you need to completely rebuild and recover.
As a locally owned and operated business, we are proud to provide residential and commercial fire restoration in Houston and the surrounding area. We serve property owners in Cypress, Pasadena, Alief, Baytown, and throughout the region.
We take pride in our local community, and you see that in the way we treat you and your property. Our smoke removal technicians work hard to meet the highest standard of service, so you're left with a property that feels brand new.
Our fire damage restoration staff also goes above and beyond to offer clarity and peace of mind. Take advantage of our free fire damage assessment (for property owners only). Allow us to guide you through your financial concerns with a free insurance consultation and filing assistance. Count on our smoke cleanup technicians for transparency and clear communication. In fact, consider us your fire information center.
911 Restoration of Houston is licensed, insured, bonded, and part of a respected nationwide company. From compassionate service to expert fire restoration, we do what it takes to be your best ally in a disaster.
Call 911 Restoration today at 713-714-5652 for quality service and immediate peace of mind.
Comprehensive Fire Cleanup for a Fresh Start
When we say our fire cleanup and smoke removal technicians do it all, we mean it. They clean smoke, soot, and ash. They promise permanent odor removal. They repair every damaged structure or service. Our fire damage restoration experts even handle flood cleanup if the fire department soaked your property.
The fire and smoke cleanup process looks a little different for each customer, but here's the broad overview: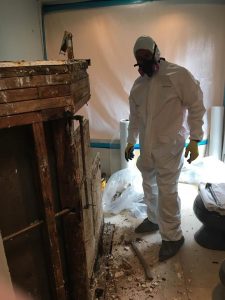 If there are any unharmed items still on your property, our workers pack out and store those belongings for safekeeping. Then, they begin smoke removal using sodablasting techniques. Our smoke cleanup process is extensive, ensuring every square inch of your property is clean. That includes your dishes and furniture.
Sometimes odor removal occurs naturally with the smoke removal process. If it does not, our technicians employ additional methods to ensure complete odor removal. 
In the event of a fire hose flooding, our fire restoration crew takes care of water removal, mold inspection, and mold remediation. All fire cleanup experts are also certified in water damage restoration, so you can be sure they know what they're doing.
Finally, we complete the fire restoration process with all necessary repairs. No matter how extensive your damages are, this crew can handle it. They repair, replace, or remove every compromised material. In the end, you're left with a home or business that feels like the refuge it once was.
At 911 Restoration, we believe every disaster is an opportunity to grow and rebuild. When you turn to us for fire damage restoration and odor removal, you can expect more than basic cleanup. You can expect a Fresh Start.
Call us now at 713-714-5652 and see how we can help.

Find Answers to All Your Questions About Fire Restoration in Houston
A property fire feels like a waking nightmare. Your mind goes into panic mode. You have so many questions, so many concerns, and you don't know where to start.
Start here. Call 911 Restoration of Houston and let us guide you through this.
Our experts have years of experience providing fire damage restoration in Houston, Cypress, and the surrounding area. We know what you're going through, and we can anticipate many of your concerns. Count on our team for clarity, insight, and expert advice.
We've established a free fire damage assessment (for property owners only). This zero-obligation inspection allows us to give you a clear sense of what it takes to give you a Fresh Start. A fire damage restoration expert lays out your options so you can decide on the best path forward.
From there, we provide a free insurance consultation. Even if you know your provider covers fire damage restoration, you may not know which services are included in your coverage. A member of our staff reviews your policy with your unique needs in mind. They tell you how much support you can expect from your provider. Then, they assist with inventory and loss itemization. They also file a claim for you and bill your provider directly.
If you have any fire restoration questions that these services do not address, don't hesitate to ask. We are here to provide clarity and put your mind at ease.
For a fast, compassionate fire cleanup process, call 911 Restoration of Houston at 713-714-5652.