Sanitization Services in Houston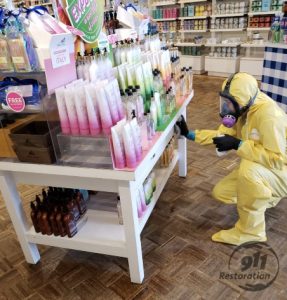 You can take immediate steps to sanitize and disinfect your property during the coronavirus outbreak here in Houston. According to the Centers for Disease Control and Prevention (CDC), it's very important that we all do what we can to limit the spread of COVID-19. 911 Restoration of Houston is dedicated to keeping your commercial or residential property clean.
Exposure to the coronavirus has very high odds of leading to infection. For this reason, limiting exposure to the virus is very important. People are advised to maintain social distancing and to keep at least six feet between one another when they must go out. Properly cleaning and disinfecting surfaces can also wipe out the COVID-19 virus.
Getting professional sanitization services in Houston can help you get back your peace of mind as we all handle the coronavirus together. You can feel confident that the highly trained techs at 911 Restoration of Houston are prepared to handle office and retail store cleanup.
Allow us to visit your commercial or residential property to develop a sanitization and disinfection plan. Help your clients and employees feel comfortable in your place of business by allowing us to handle sanitization services in Houston for you. Call us at 713-714-5652 and see how we can help.

Steps for Sanitization and Disinfection in Houston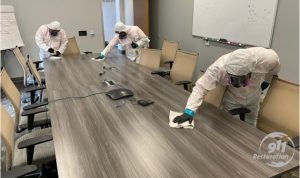 Sanitization services in Houston are especially important during a viral outbreak. The cleanup techs at 911 Restoration of Houston are trained to handle disinfection for both commercial and residential properties. Our techs are:
Ready to rush out to your property within 45 minutes of your call

Armed with professional cleaning and disinfection supplies

Trained in current protocols issued by the CDC
You can take proactive steps to keep your property sanitized and disinfected here in Houston. Allow 911 Restoration of Houston to sanitize selected surfaces or areas of your business or home. You can select specific rooms you'd like us to clean, or allow us to handle your entire office or retail space.
Taking precautionary steps can help slow down the spread of coronavirus through our community. This can improve the chances that hospitals will not be overwhelmed as people become ill. You can find out more about how you can do your part to protect your health, the health of your employees, and the health of your customers by contacting us now. Our sanitization techs are on-call around the clock, so reach out to us when you need help the most. Call us at 713-714-5652