Commercial Restoration in Houston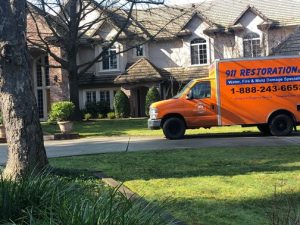 You can get a Fresh Start if you experienced commercial property damage in Houston. The experts at 911 Restoration of Houston can help you handle commercial water damage, fire damage, sewage backups, and mold outbreaks. You can reach our IICRC certified commercial restoration techs 24/7/365 to get help within 45 minutes of your emergency call.
Our commercial restoration crews have the training and experience to address your unique needs after a flood, fire, pipe burst, and more. You can count on us to:
Offer You Same-Day Commercial Restoration Services

Work Around Your Schedule

Get You Operational Again Quickly so You Can Serve Your Customers
You can even rely on us to help protect your inventory after you experience a commercial property disaster. Flood cleanup techs can pack out and store your undamaged stock, keeping it safe until water damage restoration, fire cleanup, or mold removal is completed. 911 Restoration of Houston can offer you:
Help from Licensed, Bonded, and Insured Technicians

Service with Cutting-Edge Property Restoration Equipment

Prompt Restoration Services when You Need Them Most

Assistance from Techs Who Will Put You First
No job is too big or too small for our fire cleanup, mold decontamination, and water damage restoration crews. Techs are prepared to take on the challenge of commercial restoration in Houston, so they can bring your business back into better-than-new condition quickly. Let us give you back your peace of mind after you experience commercial property damage in Houston.
What Services Do Commercial Water Damage Restoration Techs Offer?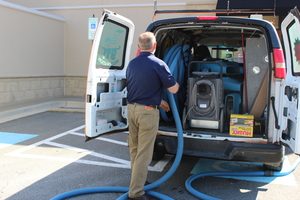 Commercial water damage restoration in Houston can help you recover from a hurricane, tornado, flood, or plumbing emergency. Houston flood cleanup techs can begin working to renovate and restore your property in under an hour. Depending upon your needs, they may:
Perform a Water Damage Inspection

Begin Water Extraction Using Professional-Grade Pumps

Take Steps to Stop Additional Water from Entering Your Property

Use Dehumidifiers, Fans, and Air Movers to Dry Your Business

Repair Burst Pipes, Leaking Pipes, and Frozen Pipes

Take Care of Ceiling Leaks and Ice Dams

Clean Up Flooded Basements and Crawlspaces

Handle Carpet Water Damage and Hardwood Floor Damage
You can even count on 911 Restoration of Houston to take care of your property if you experienced a sewage backup in your business. Sewage backups can end up spilling contaminated water into your property. This water can warp your floors, damage your inventory, and leave behind foul odors.
Houston water damage restoration crews can help you handle sewage cleanup the right way. Flood cleanup techs at 911 Restoration of Houston can arrive armed with:
Personal Protective Gear to Safely Remove Sewage

Equipment to Remove and Safely Dispose of Sewage

Professional Cleaners to Disinfect Your Property
You can reach out to us if sewage flooded your commercial property due to a clogged plumbing line or due to heavy rains that overwhelmed the sewage system. Techs can quickly return your property to perfect condition so you can get back to focusing on running your business.
Can You Get Help with Commercial Fire Damage in Houston?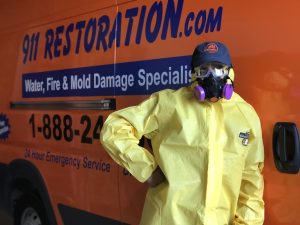 Commercial property owners can get fast help handling fire damage in Houston. Businesses may be at a higher risk for fire damage than residential properties. This can be especially true if you operate a restaurant or another business that makes use of ovens.
The experts at 911 Restoration of Houston are trained to handle commercial fire damage restoration. You can count on us to help with:
Structural Damage Caused by the Fire

Water Damage from Fire Hoses and Sprinklers

Smoke, Ash, Soot, and Odor Removal
Fire cleanup experts may use sodablasting techniques to restore your property after a fire. Crews can dry out and dehumidify your business. They can also perform a mold inspection to check for signs of fungal growth after a fire.
Mold can grow in any environment that is damp. Fungal infestations can easily occur after a fire, as dirty water from sprinklers and fire hoses sinks into your property. Beginning fire damage restoration quickly can reduce the odds that you will experience a mold outbreak.
However, if you spot signs of mold you can get fast help by contacting 911 Restoration of Houston. Techs can handle commercial mold removal for you. You can contact us for help:
Isolating All Areas Infested with Mold

Removing Mold Spores Using Air Filters

Disinfecting Areas with Mold Growth

Cleaning Items Exposed to Mold
Contact commercial restoration techs in Houston after a flood, fire, pipe burst, or sewage spill. You can rely on flood cleanup experts to bring your property back to perfect condition so you can get a Fresh Start quickly.