Mold Remediation Houston
Eli Elkayan and his 911 Restoration Houston team are the people to call if you are need of mold remediation services. We are licensed, bonded, and insured, so that you can begin your new life with the fresh start foot forward.
We believe in in positive professionalism, and that means that from the initial call to the remediation of the last spore, you receive courteous and honest interactions with every single one of us.
We truly believe in removing mold from your home, and we remove all the issues homeowners typically deal with during mold decontamination happenings.
We know you are in search of immediate relief, so we get to your home within 45-minutes of any call. When we arrive we immediately begin assessing how far the mold has gone.
It is truly going to be a renewed beginning and a chance to live more comfortably in your home. It is our fresh start promise, so call the mold remediation Houston team, today.
Preventing Mold Growth with 911 Restoration
Mold only needs two things to grow: moisture and dead material. That makes the entirety of your home susceptible to mold. Think about it, your house has wooden structures, drywall paneling, and plenty of pipes and gutters surround it to make it the perfect spot for mold.
Moreover, Eli says, "homeowners need to know that mold growth can occur within twenty-four hours of a water damage incident, which is why my team knows how to do it all. A good water damage restoration job will not leave the slightest chance for mold growth," which is why he and his team are available 24/7/365.
Here are some of Eli's best tips to prevent mold growth:
Never let a spill sit for too long, or be absorbed by any porous materials nearby.
Use cleaning products like bleach on any surface that is regularly in contact with water.
In damp or humid rooms, open a window to let in air that will reduce the water vapor present in the air which causes mold growth.
Take the time to ensure your under-sink area is not experiencing any drips or leaks which may cause mold growth.
Day or night, mold continues to grow, so he is here ready to nip it in the bud. After a water damage incident, we recommend that you call the experts at 911 Restoration.
We offer a free visual mold inspection and a free estimate, so that you understand the true extent and risks of mold in your home. For example, our years of experience give us perfect insight as to where we should be looking for trapped moisture, so that we can dry out the space. Giving mold no time to take hold of your home.
If you suspect mold, or recently had a bout of water in your home, call the mold remediation Houston team for same day service.
The Mold Remediation Team That Works for You
The mold remediation Houston team at 911 Restoration has plenty of experience in bringing people peace of mind and freedom of breath, as mold can cause nauseating headaches and flu like symptoms.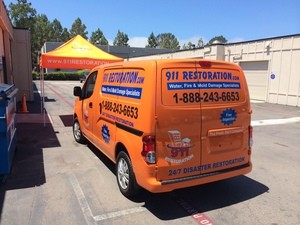 When you call us, our IICRC certified crew brings everything we need to decontaminate your living space and address the underlying causes of your mold issue.
See, some mold colonies are not removable, such as those on major support structures, but they can be maintained. For example, if we find mold on a keystone load-bearing beam, then we sand the area and decontaminate it.
Due to the porousness of wood, it can never be all gone, but what we do is make sure it is limited in its growth.
We surround all afflicted parts of the home with new anti-bacterial material in order to limit the amount of mold that can grow in the future. Plus, we run our dehumidifiers in order to decrease the ambient temperature of a room, as to allow the space to dry faster.
Every space in your home infested with mold gets the same treatment, so you know you are safe.
If you are in need of our mold remediation Houston team's expert eye and handiwork, then call the mold removal Houston experts at 911 Restoration Houston, today!