Mold Remediation in Houston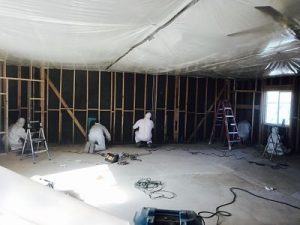 Mold makes you aware of its presence in many different ways. You might notice a mildew-like odor coming from the walls. You could experience unexplained dizziness, frequent headaches, or an increase in allergies. Or perhaps you recently had water damage restoration service and you know mold is a common result of standing moisture. Call us at 713-714-5652 and allow us to provide you with a free visual inspection.

Maybe you simply see a mold colony growing in plain sight.
It doesn't matter why you think you have an infestation. All that matters is that you seek out a mold inspection right away, before fungus has an opportunity to cause serious damage.
The mold remediation crew at 911 Restoration of Houston is always here for you. Our IICRC certified mold removal staff has been extensively trained to uncover, identify, and eradicate an infestation. They treat the structure to prevent future growth and repair damage caused by mold. 
Our compassionate mold removal experts know that fungal infestations are a mystery for many property owners. There are plenty of rumors out there about how dangerous—or how "harmless"—mold can be. You can feel comfortable bringing all your questions to us. Our staff clarifies everything, from explaining procedures and options to walking you through any potential for insurance coverage. 
As a locally owned and operated company, 911 Restoration of Houston is invested in protecting the properties that make our community great. We respect you as a neighbor, and we guarantee quality service and clear communication.
911 Restoration is licensed, insured, bonded, and backed by the reputation of a nationwide company. We serve both homes and businesses with comprehensive mold remediation in Houston, Cypress, Pasadena, and neighboring cities.
Above all, we offer a Fresh Start after mold contamination. 
Don't put off mold inspection. Call 911 Restoration of Houston now so you can breathe easy again. Call us at 713-714-5652 and see how we can help.

Safe, Reliable Mold Remediation in Houston
There is no home remedy for mold removal that offers the peace of mind a certified professional can offer. In fact, trying to clean mold yourself will cost you more in the long run. Do-it-yourself mold decontamination is never truly effective or lasting. It's also dangerous.
You may already know about the dangers of black mold. This toxigenic species releases mycotoxins into the air. Anyone occupying the space can then inhale those mycotoxins. Over time, the particles gather in the body, create a state of toxicity, and may lead to serious health issues.
However, black mold is not the only type of mold you should worry about. All varieties pose some threat to human health. The consequences may not be as severe, but they are no less real.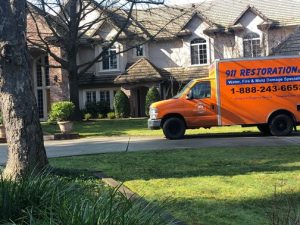 This is why you should contact a certified mold removal specialist for a mold inspection right away. For one thing, trained professionals conduct a thorough mold inspection to ensure no harmful colonies remain hidden on your property. This is especially crucial after water damage restoration. When water seeps into the structure of your home or business, it can lead to growth in unseen spaces. This is how you end up with mold in your walls, on sheetrock, or under your carpet.
Just as important, experts like those at 911 Restoration are equipped to decontaminate safely. When you scrub at a colony, you force the fungus to release dangerous particles into the air and up into your lungs. Mold remediation experts like ours know how to avoid this problem.
When it comes to mold removal, let safety be your top priority. Call 911 Restoration for a mold inspection in Houston, Cypress, and beyond. Call is at 713-714-5652

The Fresh Start Restoration Contractors
911 Restoration isn't just focused on mold removal. We're determined to give you a Fresh Start.
Just as we do with our water damage restoration service, we follow mold remediation with repairs and preventative measures. If your infestation has been growing in secret for a while, you may have some resulting damages. The purpose of mold in nature is to break down organic material. When it comes to your property, mold can cause anything from unsightly stains to crumbling ceilings. Our mold removal specialists are trained to handle any repair you require, removing or replacing compromised materials.
Our mold removers also plan for the future with structural dehumidifying. This process involves the use of professional fans to dry the structure where the colony grew. Structural dehumidifying is especially important in the context of water damage restoration. If that structure continues to hold moisture within its core, there's a decent chance you'll see new growth in that area soon. With structural dehumidifying, our mold remediation crew hopes to prevent that aggravation for you.
If you believe you have a mold infestation, don't wait too long. Call us right away at 713-714-5652, and we'll provide the comprehensive mold remediation service you deserve.