Water Damage in Houston
911 Restoration of Houston
If you're suffering from water damage headaches like roof leaks, flooding, pipe bursts, frozen pipes, or sewage spills; call the water damage restoration experts at 911 Restoration of Houston.
We have an industry leading response time of 45 minutes.  With our Fresh Start attitude, we'll make sure you get fast and reliable water damage repair and restoration. Call us at (713) 714-5652 and allow us to offer you a free visual inspection.
WEATHER ALERT:
We urge everyone in Houston to stay safe and stay vigilant. Texans are going through massive issues with harsh weather conditions. Due to the snowfall, ice and extreme temperatures, property owners might be at risk for a disaster. If you are in need of emergency disaster restoration services, call 911 Restoration of Houston today. We are here for you during this unprecedented snowstorm.
Our experts are fully dedicated to your satisfaction during your time of need.
Water damage situation can arise when you least expect them, but our water damage team in Houston will always be available 24/7/365 to take on any leak no matter when they happen.
When you call us regarding a water damage situation that needs to be patched up, you can expect on the day service that will take care of the problem right away.
Service area map
Water Damage Restoration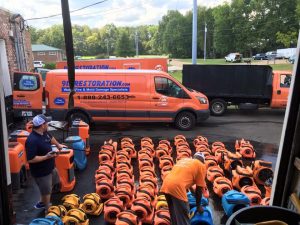 Once we arrive, we will conduct a free assessment of your property that will help us fully understand the issue and recommend the right solutions. Among the water damage problems we can take on include:
Roof damage and ceiling leaks
Clogged gutters and downspouts
Pipe bursts, frozen pipes and other plumbing issues
Drywall flooding
Bathtub overflows and running sinks
Water-based appliance hose ruptures or connector leaks
Fire sprinkler malfunctions
Mold growth
We have over three decades worth of experience in handling all of those problems. Our experience together with our training and equipment will help us provide top notch restorations that will give your home a fresh start!
Water damage situations can give rise to other issues like mold growth and wood rot. That's why it's necessary to be able to work on the problem right away. 911 Restoration's quick response and on the day service will be able to help you avoid any further complications.
Our IICRC-certified water damage technicians in Houston will be using advanced drying equipment to extract water and remove moisture from your home thoroughly. You can expect nothing but absolute satisfaction when it comes to our water damage restoration team with 911 Restoration of Houston today at (713) 714-5652!
Client Testimonial
Sherry M.
"I would give them 6 stars if I could. I had to deal with a flood in my business, an absolute nightmare for every business owner. 911 Restoration came right away, and they are so professional and efficient. Even after everything was done they followed up and made sure everything was back to normal. A+ customer service. Thank you!"
Sanitization Services & Disinfection Solutions
With the impact of coronavirus reaching global proportions, it's clear more than ever just how much of our daily lives have changed. Every business and person has been affected by this pandemic. That's why it's important we all do our part to contain the virus. We can start by ensuring we maintain our personal hygiene.
Property owners have a responsibility to contribute more to the solution. This can be done by ensuring their buildings remain sanitized according to the latest protocols. Sticking to these protocols will ensure the people who come and go stay as protected as possible. That's why 911 Restoration of Houston is standing by to perform sanitization services along with various disinfection solutions for both residential and commercial properties. All of our technicians make sure to stay updated on the latest training to ensure full compliance with all current CDC and EPA protocols in an effort to deliver optimal results with our sanitization services. As a community, we can fix things. That's why we'll do our part in creating a much-needed peace of mind.
Mold Removal
When roof leaks or pipe bursts cause water to come into your home, it can bring in excess moisture that creates the idea environment for mold to thrive. Mold can hasten the deterioration of the wooden components of your home like the ceiling, rafters, or floor. Mold will also release spores that can spread the fungal infestation and can trigger health conditions like skin irritation, asthma, and coughing.
911 Restoration's mold remediation service is exactly what you need to remove mold thoroughly from your home. We will inspect each nook and cranny of your home for any signs of fungal infestation, and we will use eco-friendly cleaning solutions to remove mold along with the spores it may have released.
With our state of the art drying equipment, our mold removal technicians in Houston can make sure that all traces of moisture are removed from your home so you won't have to worry about fungal infestations in the long run. Call us at (713) 714-5652 and see how we can help.
Sewage Backup Extraction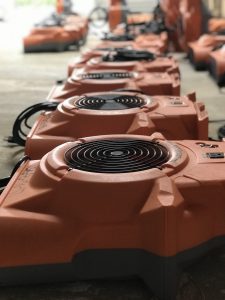 Whenever there is pressure build up in the city's sewer line, it can cause sewage to rise up into your home through a toilet. And when this happens, you're going to need the quick response from water damage experts in Houston from 911 Restoration.
Black water is filled with all kinds of biological contaminants that can cause severe damage to your home's interiors and can spread sickness.
Our water damage specialists in Houston have all the required training and equipment to be able to take on sewage spills safely and effectively.
We will be wearing protective hazmat suits as we work to prevent the spread of disease. We will then extract sewage using our advanced drying equipment.
We will then decontaminate the affected area using our industrial strength cleaning solutions that will kill bacteria without causing any further damage to your home.
Lastly, our sewage backup cleanup team in Houston team will make sure that any damage to your plumbing system is addressed today at (713) 714-5652!
Fire Damage Restoration
A fire can cause extensive damage to your home. 911 Restoration will be prepared with the comprehensive solutions and services that will give your home a fresh start! For fire damage, you can expect us to:
Complete odor removal
Ash water extraction
Smoke and ash removal
Cabinet and furniture restoration
Document restoration
Full structural restoration
It can be difficult to deal with the aftermath of a fire. That's why we offer comprehensive solutions that will take care of all the issues caused by fire damage. You can also count on our fire and smoke damage restoration team in Houston team to help you file your claims with your insurance company today!
Disaster Restoration in Houston
With our expertise, quick response, and state-of-the-art equipment, we'll offer only the highest quality of water damage restoration, mold remediation, fire damage restoration, and disaster damage restoration.
Our disaster restoration staff in Houston has been through every kind of catastrophe that exists in this industry, and that is how we managed to become the go-to source for people with such challenges.
When a crisis occurs, our team will be there within 45 minutes to take care of the damages after your call so that we can ensure you have the least amount of affected area in your home or office.
Taking on the various challenges of a disaster scenario requires expertise and skill that can only be acquired through years of experiences in the industry.
If your home or work location has already been through a disaster scenario of some sort, then contact our disaster restoration team with 911 Restoration Houston for immediate assistance today! Call us at (713) 714-5652 and see how we can help.