Sewage Backup and Cleanup Houston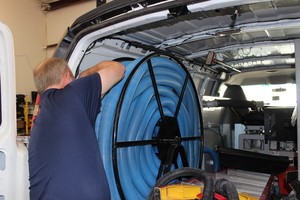 If your beloved property has been contaminated by a sewage backup, don't panic. Just call 911 Restoration of Houston. 
You can reach our water damage restoration crew at any hour of the day or night, every single day of the year. We guarantee an arrival time of 45 minutes or less, so you can immediately rest easy knowing help is on the way. Call us at 713-714-5652 and allow us to provide you with a free visual inspection.

At 911 Restoration, we believe every disaster is an opportunity to rebuild better than ever…and that includes sewage floods. Our IICRC certified sewage cleanup crew handles everything you need for a Fresh Start. They take care of sewer water removal, dry and sanitize your space, and handle any necessary repairs. They even conduct a mold inspection and mold remediation personally. In the end, your home or business feels and smells brand new.
Our sewage backup experts are trained to serve both residential and commercial properties. We provide sewage backup cleanup in Houston, Cypress, Pasadena, and throughout the region. Our licensed, bonded, and insured business is backed by the resources of a nationwide company. We're also locally owned and operated, so you can be confident that the people overseeing your sewage cleanup job value you as a neighbor.
In fact, our compassionate sewage restoration staff does all they can to ensure a stress-free recovery process. A sewage backup cleanup expert provides a free visual inspection (for property owners only) so you have all the information you need before deciding to work with us. We accept all types of insurance and clarify your coverage during a free insurance consultation. Plus, a member of our sewage backup staff assists with inventory and loss itemization, claim filing, and direct billing.
Without question, a sewage backup is a horror for any property owner. Fortunately, you don't have to get through this alone. Call 911 Restoration of Houston at 713-714-5652 for the support you deserve.
Immediate Cleanup After a Toilet Flood
Our water damage restoration crew is here for you 24/7/365. You can always reach us, and you can always count on an arrival time of 45 minutes or less.
We know that when you need toilet water removal, nothing else in the world matters. You've worked hard to take care of your property, and now it's contaminated with destructive water and dangerous bacteria. Trust our sewage cleanup technicians to treat your disaster as urgently as if it were their own.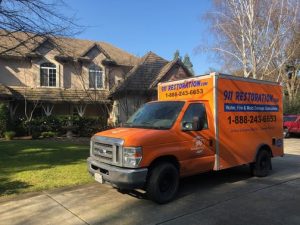 When our experts arrive on the scene, they promptly pack out and store any at-risk belongings. Then, they begin sewage water removal immediately. Swift extraction is key to preventing major damages. The horrible stench may be your primary reason for wanting a quick resolution, but our technicians are aware that standing water is hard on your property. The structure of your home or business absorbs water. This can potentially lead to weakness, rotting, mold, and other damages.
For this reason, our sewage backup cleanup staff wastes no time in water removal. Once they extract all the black water, they sanitize your space and dry the structure to its core. 
Sewage is a water damage restoration emergency, and it deserves an emergency response. For the fastest sewage cleanup in Houston, Cypress, Alief, and beyond, call 911 Restoration today at  713-714-5652.
Comprehensive Sewage Restoration in Houston
When it comes to delivering a Fresh Start to our customers, toilet water removal is only half the battle. A sewage backup can lead to any number of damages and health threats. That's why we work hard to ensure you receive comprehensive sewage restoration.
First, our water damage restoration technicians put a high priority on thorough sanitization. When black water enters your property, it brings in viruses, parasites, and illness-causing bacteria. It's very important that you and anyone else occupying the property remains at a safe distance until our staff has disinfected the area.
Second, we inspect for structure or surface damages. This could include staining, weakness, crumbling, warping, or rotting. If our sewage backup cleanup technicians discover any of the above, they repair the problem themselves. In the end, your nasty sewage spill is nothing but a distant memory.
Finally, all our water damage restoration services include a mold inspection. Mold spores only need 24 hours to start a thriving colony on a damp surface. This is why mold development is so common after a sewage backup. Over time, mold eats away at your home or business and puts your health at risk by releasing dangerous particles into the air.
We want to eliminate these risks. Our sewage restoration crew examines the affected area for mold and handles mold removal as needed.
A sewage backup can feel like the end for your property. But with 911 Restoration on your side, this is a new beginning.
Call now for a Fresh Start at 713-714-5652.
Serving the communities of Alief, Atascocita, Barker, Baytown, Bellaire, Channelview, Conroe, Crosby, Cypress, Deer Park, Dickinson, Four Corners, Fresno, Friendswood, Galena Park, Greatwood, Highlands, Hockley, Houston, Huffman, Hufsmith, Humble, Iowa Colony, Jersey Village, Katy, Kemah, Kingwo, Manvel, La Marque, League City, Missouri City, Pasadena, Pearland, Pecan Grove, Port Arthur, Richmond, Seabrook, Sienna Plantation, South Houston, Spring, Stafford, Sugar Land, The Woodlands, Thompson, Tomball, Waller, Webster and surrounding areas.