Water Damage Conroe
Water damage in Conroe is one of the most regular and menacing issues that homeowners here have to deal with and this is why our water damage Conroe professionals with 911 Restoration Houston are available 24/7/365.
This way we can show up to your emergency with tools-in-hand and get started immediately with water extractions and even black water removal.
Our water damage Conroe pros will start with a free inspection to give you a solid understanding of the work that is ahead and how much it will likely cost in the long run to repair all of it.
This is a major motivator behind our same day service, so that we can take care of the worst of the problem before it turns into a mold contamination or other fungus infestation.
Then we will immediately start using the latest drying technology so that your home doesn't even stand a chance of growing any mold in it after we are done with our specialized work and services.
Should you already have water damage creating a river of your hallway or any other area in the home and you want to know if it will cause mold growth, then contact our water damage Conroe experts with 911 Restoration Houston today!
Water Damage Can Influence Mold Growth
Water damage Conroe professionals such as our master techs with 911 Restoration Houston know from years and even decades of experience and industry know-how in many cases, that water damage of any sort in any level of your home or amount has the ability to cause mega mold growth on unprecedented scales if left untreated.
Here are some important points on mold growth and water:
This is why all of our specialized water damage Conroe pros are all IICRC certified and fully experienced in all of the fungus growths that exist.
Our water damage Conroe masters understand from our many interactions with customers that many people don't realize the full extent of horrors that mold exposure can cause.
In reality mold is a contaminant that can cause extreme congestion and even respiratory problems in those who are young or even elderly with compromised immune systems.
We are licensed, insured and bonded to take care of any mold problem and contamination level that your home is dealing with.
Should you find yourself in a toxic environment filled with mold spores that you don't want to breath anymore, or you want to know who to call for home water damage repair work, then contact us at 911Restoration Houston and we can help today!
Water Damage Repair and Restorations Explained

Water damage Conroe pros like ours with 911 Restoration Houston have racked up countless experiences and in that time we have completely honed our skills and trade craft to the point at which we should be your first call for any home water damage repair work that you need.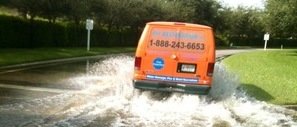 All of our specialized technicians are working with all insurance companies too.
This should make the worst of this event as easy for you to deal with as possible because we will even file the claim on your behalf.
We have found that our clients truly appreciate this aspect of our restoration work because it gives them back the time they would have spent haggling with their representatives when all they want to do is get back to enjoying their homes.
We have also found that this approach allows us to provide you with the most affordable price that you will likely find for work as incredible and industrious as ours.
Should you already be dealing with water damage and you need to know what the best water extraction company in the area is, then contact our water damage Conroe team with 911 Restoration Houston today!