Water Damage Humble
Water damage can come into your home in the form of a pipe burst, flood, or toilet overflow. When these situations occur, 911 Restoration Houston is the company that can provide you with immediate solutions.
Our water damage Humble experts are fully trained and available 24/7/365 to assist you in getting your home back into shape with quality repairs and restorations.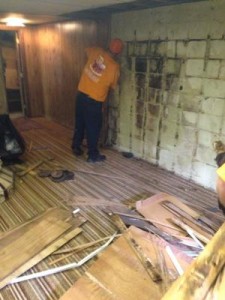 To prevent damage from escalating further, we will be there within 45 minutes of your call. Once our professionals arrive, you can expect them to get straight to work by providing your property a free inspection and estimate.
We've faced and restored all kinds of water-related issues which include:
Roof and ceiling leaks
Sewage backups
Mold growth
Pipe bursts and other plumbing issue
Storm damage and flooding
Water-based appliance bursts
Once we've determined the source of the problem, our technicians will extract water using advanced drying technology to extract water and moisture out of your home.
We will patch up that leak and refurbish the damaged sections of your home. You can count on us to make your home look good as new so give us a call today!
Hazards of Prolonged Water Damage

The 911 Restoration team has years of experience in dealing with all kinds of urgent situations caused by water. Because of that experience, we know that when an issue like a roof leak isn't patched up right away, other problems can start to appear. One of those problems is mold growth.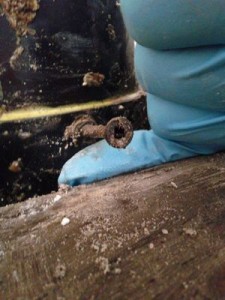 Some important points from Eli to remember about mold growth:
While mold is a natural part of the outdoor environment, it has no place within your home.
Mold can cause medical conditions like allergies, skin irritation, and asthma due to the spores it releases through the air.
Another issue is mold can accelerate the aging of wood leading to structural problems.
Mold spores float around in the air and can start growing almost anywhere with enough water.
To prevent these issues from occurring, you should get in touch with 911 Restoration right away. Our training and advanced equipment with make sure that the source of moisture is patched up and mold is removed.
Our mold remediation team will also check those hard to reach areas including the crawlspaces and the space between walls.
Without moisture, mold won't be able to grow. Through quality water damage repair and restoration, 911 Restoration can patch up that leak. Our IICRC certified technicians will make the necessary drywall repairs or flood damage repair.
With our timely response, mold growth is prevented and your home remains safe and comfortable for you and your family, so give us a call today!
Quality Water Damage Repair
Our year-round availability, almost immediate response, and state-of-the-art equipment make 911 Restoration the company that you can count on to take care of that roof leak, pipe burst, toilet overflow, or even flooding.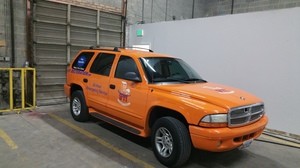 Our crew is trained to provide you with only the highest quality of water damage repair and restoration.
Water damage can come in many forms, but no matter how it arrives, it must be eliminated quickly to prevent further damages, and this is why Eli and the water damage Humble technicians are always here for you whenever you need us.
Never let water sit after it has spilled as this may engender a mold growth contamination situation that you don't want to have to deal with alone.
No matter when it happens and no matter how bad a leak is, you can count on our water damage Humble experts with 911 Restoration to provide you with the best solutions and give you a fresh start so give us a call today!