Returning Home after Hurricane Harvey
Returning Home After a Flood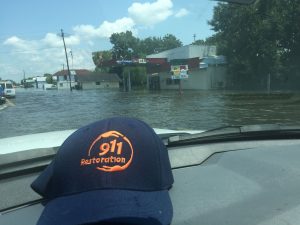 As the flood waters recede and the millions of displaced Houstonians return home after Hurricane Harvey, 911 Restoration wishes the community well and offers it's well-trained, compassionate support. First, we urge everyone to be careful, the storm may have passed, but many threats remain.
Downed power lines are deadly, especially with so much water still present in the area. Touching a downed powerline, or even stepping in a puddle connected to a power line can send a person into shock or even kill. Watch where you step. If you find a live wire, call 911 immediately and stay away from the hazard.
Nature also has not finished its terror on the community, everything from alligators to floating colonies of fire ants now move through the streets. Be ever vigilant. If you do not bother them, they likely will not bother you. Stay away from any dangerous creatures.
Once you have returned to your home, realize that, just because the water has retreated, does not mean your house is safe. The damage remains to support structures, drywall, paint, and carpets. Mold and bacteria will have taken root since so many days have passed with increased moisture in the area.
911 Restoration has teams of IICRC certified professionals stationed across south east Texas, from Galveston and Houston to Beaumont and even as far as Louisiana. We are well equipped to extract moisture from your home, perform complete mold remediation, and preserve as much of your property as possible. We are the Fresh Start company, and that is exactly what we plan to provide for you, a fresh start.
Financial, Emotional, and Foundational Hope in the Face of Disaster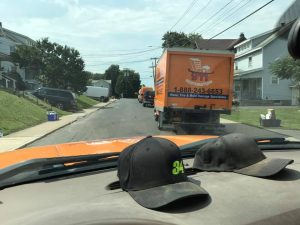 It is rare to see communities come together in solidarity and support the way Houston has in the face of such crisis. Volunteers from all over the state packed up their trucks and boats to get in the water and rescue one another from flooded houses, trucks, and other dire peril.
911 Restoration salutes these heroes and we vow to do our part in the reconstruction efforts to match the community's efforts. We are on the ground with technicians from across the country to begin the repair efforts.
Our goal is to provide a foundation of support for your emotional healing. We work with your insurance company directly to ensure you receive the aid you need after Hurricane Harvey. It warms our heart to see everyone's efforts in the flood cleanup efforts.
FEMA has been activated due to the emergency situation that is Hurricane Harvey. They can help find temporary housing, pay for gas, and even property repairs for certain situations. Be sure to check with their sites to see if you qualify.
If you are looking for a way to give back, volunteer workers have already begun clearing schools and churches of debris. When you are out there helping your neighbors, be aware that you may be introducing yourself to bacteria from black water and airborne mold particles. If you suspect sewage or mold in a property, it is best to leave that water restoration to the professionals and our full hazmat suits.
What is Next for Houston's Residence After Hurricane Harvey?
As Hurricane Harvey passes over Texas and Louisiana, leaving devastation in its wake, Houstonians need to know the best steps to take next. Ensuring the safety of yourself and your family is always property number one.
You can follow these twitter accounts for more information on the Hurricane's path and to see what areas have been cleared:
As you return home, be sure to steer clear of the disasters described above.
FEMA and the Red Cross are out in force to help everyone who was affected by the hurricane in Houston. Whether you require a shelter or food and water while your home is being repaired, they are here to help. The Red Cross mobile app has all the information you need to take steps toward a fresh start.
Finally, you want to begin the water removal process as soon a possible to reduce the amount of damage incurred on your property. Call 911 Restoration and one of our many project managers will be at your home as soon as possible to care for you and your property.