Water Damage: Causes and how to Prevent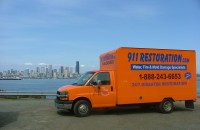 Water damage is the result of water collecting and sitting in a location where no water should be settling. Spotting a potential problem and knowing the signs of a problem that may soon arise could help in preventing damage. As soon as a problem is expected, the necessary step can be taken to fix the problem and stop any damage from occurring.
Water damage can occur because a pipe is leaking. Plumbing that becomes backed up or clogged will create a block in the water flow resulting in the pipe bursting because of the pressure build up. Another possible cause of water damage is broken appliances. Garbage disposals, refrigerators, water heaters, or washing machines that are malfunctioning could result in leaky pipes or cause a pipe to burst. This type of situation is prone to happen as appliances age, so it is wise to frequently check these aging appliances.
Not all plumbing issues are easily found or known, but sometimes homeowners can prevent plumbing problems from occurring and leading to water damage. Early detection and prevention can be as simple as checking hoses and pipe joints to ensure they are all securely in place.
It may not be possible to prepare for all types of water damage or prevent any damage from happening to the structure, but homeowners can safeguard their property to the best of their ability with a little know how. If a natural disaster creates an excessive amount of water in the home, a call to a water restoration service as soon as safely possible is required.
Other tips to prevent water damage are maintaining the roof, vents, air conditioners, and chimneys to prevent possible leaks that could result in water damage. Maintaining the gutters and keeping them clean can also help. If any damage or need for repair is discovered, immediate attention should be given to rectify the damage.